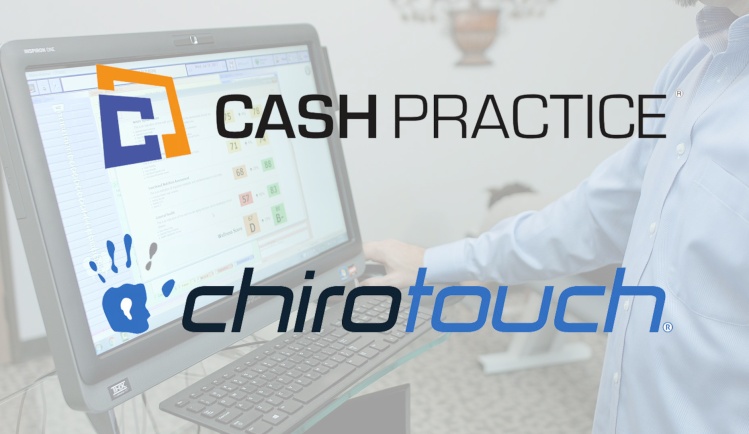 QUESTIONS?
Talk with a Cash Practice Expert
Even after watching our demo, you're probably wondering how Cash Practice Systems will work for you. We get it.
Talk with a Cash Practice Expert and get all your questions answered.
Book a 10 Minute Call
Fill Out To Watch Demo
Enter your info below to watch the Cash Practice ChiroTouch Chiropractic Software Demo Video and see how we can help you increase your cash collections!
Cash Practice Reviews
Meet successful Cash Practice System users.
I've used Cash Practice Systems almost from the start of practice, but especially after becoming an Epic Practice. We now use Cash Practice Software for Care Plan creation and run nearly every single part of our collections through it! It's honestly just so well thought out. Constantly getting updated, smarter & better and integrates with ChiroTouch.
Excellent! I am not very tech savvy and this Cash Practice software is so easy to use! I love it! I give Cash Practice my highest review! I am planning on telling all my Chiropractic colleagues! The 1 day Hands on Training Seminar is a must! These ladies ROCK!
Hands down, the absolute best program of its kind. I wanted to have a turnkey system in place that made our financial plans and payment options stress-free and professional. Cash Practice has done that and so much more. Whether you are insurance based or cash, they are the absolute best system and team in place to deliver every single time. Do yourself and your practice members a favor and check them out!
We've been clients of Cash Practice Systems almost since we opened in 2007. It's a great way to offer care plan options and monthly memberships while offering top-notch security (aka peace of mind). They have a great training library and our experience with customer service has always been prompt, personable, and pleasant. I recommend Cash Practice Systems to my colleagues often.
Cash Practice is Awesome. Everyone is accessible and willing to help. The software continues to improve, there's training, tutorials, online academies, and wait for it...ACTUAL LIVE HUMANS in San Diego (as opposed to off-shore pretending to be in the states) that are happy to help. If you're looking for ways to generate income and keep your financial documentation in order call the Cash Practice team!!!!
We LOVE Cash Practice! If you have the chance to work with them, you will find their team to be exceptional. They have the best team in place to help support you with any random needs, or not so random business needs you may have. They have always gone above and beyond to produce exceptional quality support that I find is somewhat lost these days with other businesses. Thank you, CP!
Such a stand-up company! Cash Practice Systems provides so many valuable tools to run a practice much more efficiently. What you get for their products and service is really a bargain! I'm especially amazed at the Cash Practice Customer Service. I've contacted them for various reasons interacting with several different staff members and every single time, I was treated like I was the most important customer!
The Cash Practice team excels at customer service and giving attention to their end users. We have been with them since the beginning and have no reason to think that would change. Their enthusiasm is contagious and their energy is amazing. Shout out to Holly for having an awesome team and being hands-on with the customers as well. She makes it all look easy! LOVE LOVE LOVE
Cash Practice Chiropractic Software & Training for
increasing client attraction, enrollment and retention.
The Wellness Score
Report and show your patients and clients the need for your products and services. The Wellness Score uses bio-marker testing to produce a graded report card for health that builds value by clearly showing the need for your care.
Care Plan Calculator
Offer clients affordable and compliant payment plan agreements. The Cash Plan Calculator produces a written payment plan template clients sign when agreeing to purchase your products and services.
Auto-Debit System
Automatically collect credit card payments with recurring credit card authorization forms. The Auto-Debit System is a PCI compliant EMV CHIP enabled POS system for processing one-time & recurring credit cards & ACH payments.
Drip-Education Email
Consistently educate and market to your clients with email marketing services. The Drip-Education Email System is a fully automated and customized email marketing software system that comes with premade campaigns.
Click the button to schedule 10 minutes to talk with a Cash Practice Expert. You'll be glad you did!
Schedule 10 Minute Call
Join Cash Practice Systems today!
Start today for as little as $99/mo. All software and training is included.